Whether you are at work, or away for the weekend, it's not possible to keep an eye on your cat all day long. Ever wonder what your cat does when it is home alone? A pet cam can come in handy for that. If you are curious about your kitty's silly activities, then get a cat collar cam and observe everything it does. With a good cat camera collar, you can see the world from the perspective of your little pet.
Our Top Pick
After reading hundreds of reviews and comparing dozens of them, we think that the Dogtek Eyenimal Cat Videocam will be a pretty good camera for your feline companion. The camera includes two camera modes and comes with a motion detection sensor. This device is super versatile, durable, and adjustable. Below we have rounded up the top 4 collar cameras for a pet cat. Read on to find the most appropriate camera for your cat.
A list of best cat camera collars
The Dogtek Cat Videocam offers everything you would expect from the ideal collar camera. The product is specifically designed to attach directly to your kitty's collar.
The device features a 736×480 resolution to capture the HD video and high-quality audio. Equipped with a motion detection sensor along with two recording modes, the Dogtek Cat Cam records every movement of your cat.
Another great feature of this device is its autofocus CMOS sensor with night vision up to a distance of 7 feet so you can spy on your cat even at night. It has a 4 GB built-in memory and a rechargeable lithium-ion battery.
Specifications
| | |
| --- | --- |
| Dimensions | 1.8×0.8×1.8 inches |
| Weight | 0.30 ounces |
| Power | 1x CR2 battery  |
2. Digital Pet Collar Camera
The strong and lightweight Digital Pet Collar Cam is also a decent choice for your cat. Featuring a camera resolution of 1280×1024, this product enables you to get clear images of your pet. The camera features a high video resolution of 640 x 380 with 30 FPS to provide a clear and crisp video.
The product is powered by a lithium-ion battery that runs for about 1.5 hours. This camera supports external memory storage of up to 32 GB. Moreover, it records videos in AVI format and captures photos in JPG format. The device includes a USB cable for transferring media files to your computer.
| | |
| --- | --- |
| Dimensions | 2.2 x 2 x 1.2 inches |
| Weight | 0.32 ounces |
| Lens Angle | 65-degree  |
| Power | DC 5V |
3. Uncle Milton's Pet's Eye
If you are looking for a pocket friendly option to explore the world of your cat, then you should choose the Uncle Milton's pet eye view camera. This device is much cheaper while offering great features. It has a built-in memory that lets you store up to 40 pictures.
The product comes with auto-interval settings to take high-resolutions pictures at different intervals (every 1, 5, or 15 minutes). Moreover, you can print images into a size of 4 by 6 inches photos. Also, you can easily transfer media directly to your computer via a USB cable. This lightweight and compact camera is fully compatible with both Windows and Mac.
Specifications
| | |
| --- | --- |
| Dimension | 2 x 1.3 x 2.2 inches |
| Weight | 3.52 ounces |
Capture all the precious moments from your cat's viewpoint with the Glift's weatherproof rechargeable pet camera. This device is another good choice for owners who want to capture remarkable moments.
This lightweight, compact product offers all the great features that you expect from a cat collar cam. It has a built-in Lithium-Ion battery that runs for 20 hours. The battery is rechargeable and can record videos up to 45 minutes. 
The camera can record high-quality video and audio. The device has 128 MB internal memory to store quite a number of pictures. Built with eco-friendly, durable plastic, the Glift's weatherproof camera provides reliable performance. 
| | |
| --- | --- |
| Dimension | 2.2 x 2 x 0.9 inches |
| Weight | 1 ounce |
| Internal memory | 128 MB |
| Video resolution | 640 x 480 |
What to consider when choosing a collar camera for cats?
Resolution
Invest in a high-resolution camera that will provide crystal clear videos. The resolution of a pet cam should be a minimum of 640 x 480 pixels.
Size
Make sure to choose a compact and lightweight camera for cat collar. The size of the camera should be so small that your feline companion shall hardly notice it.
Durability
Durability is the most important factor to consider when choosing a collar cam for your cat. A camera needs to be made from strong, sturdy, and eco-friendly material.
Battery Life
Consider a camera with a long battery life of at least 2 hours. Otherwise, you will have to keep charging it frequently.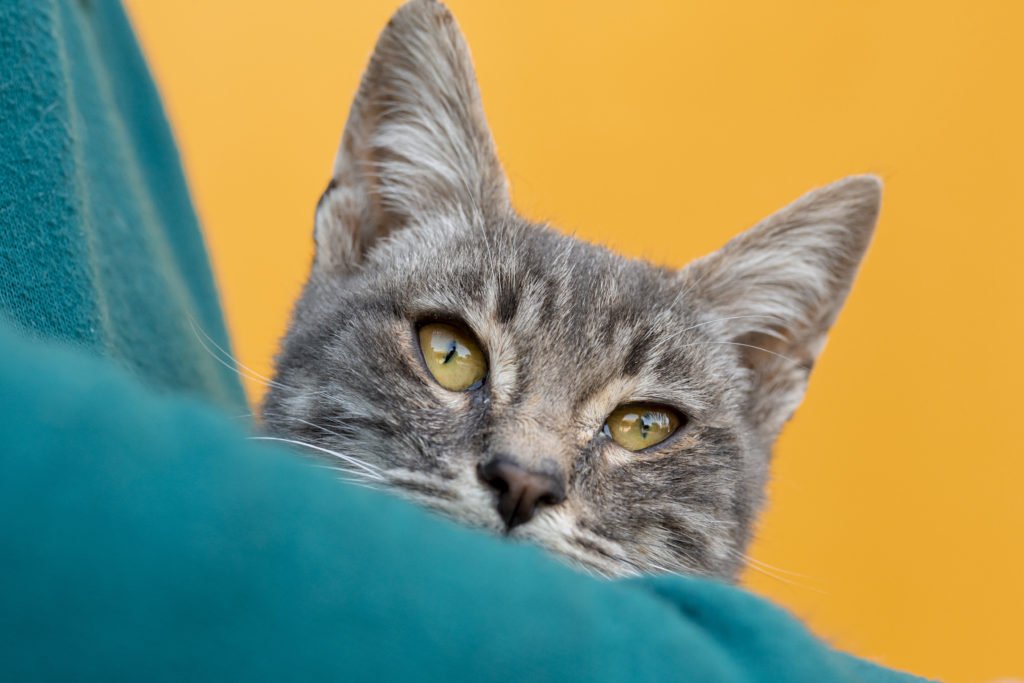 Frequently Asked Questions
Which is the best cat camera for outdoor use?
For outdoor use, you should choose a camera that has a long battery life and a high water-resistant rating.
Can I connect my camera to my Smartphone?
Generally, cat cameras are able to connect with a Smartphone. You should confirm this with the product manufacturer before buying it.
Conclusion
So, these are our four personal favorite pet collar cameras. Each product has its advantages and disadvantages. You can choose one which suits you and your cat the most. In our opinion, Dogtek Eyenimal Cat Videocam is the best cat camera collar as it offers night vision and motion detection capabilities. Strap up a cat cam collar and observe your cat's playful activities. Let us know if you have any queries in the comment section below. Stay tuned for more interesting articles.

Subscribe
Subscribe to receive latest news and articles from us.