If you have ever been excited to show your cat the outside world, you should find a ride that is perfect for both you and your pet. Whether you're taking your kitty for a long walk or to the vet, a pet stroller can be a wonderful choice as a good cat stroller is a safe and enjoyable way to pamper your feline friend.
Today, I am going to share everything you need to know about getting the most suitable cat carrier for you. Also, I will introduce you to the top 5 pet strollers to help you find the right one for your pet cat. So, have a cup of coffee and enjoy the article!
Our Top Pick
After comparing each stroller, the Paws & Pals Pet Stroller takes first place in my opinion. With an easy front zipper entry, mesh windows, shock absorbers, large wheels, and an adjustable canopy, this stroller has everything to meet your needs. This product by Oxgord offers safety as well as convenience throughout the ride.
Here is a list of the best cat strollers with reviews:
Top Pick: Paws&Pals Pet Stroller
The Paws & Pals 3 wheeler elite jogger comes at the 1st position in my suggestion list. The sturdy, lightweight, and comfortable stroller is an ideal choice for old or small-sized pets that can't walk for long distances. Built with a high-quality aluminum frame and breathable mesh screen windows, this stroller offers safety and convenience on walks.
The product has a retractable plastic waterproof rain hood to keep your pet dry in inclement weather. It features rear security brakes, two cup holders for beverages, and a large undercarriage storage area to store your belongings. Moreover, this model has the mesh screen windows to keep mosquitoes and bugs at bay.
You can easily fold it down with the press of a button. Features an easy-locking canopy along with a leash clip which helps in stopping your pet from making escape attempts. It is available in multiple colors including black, pink, and purple on Amazon.
Specifications:
Dimensions – 13 x 17 x 7 inches
Weight – 8.5 pounds
Features – Comfortable mattress, front shock absorbers, parking brakes, cup holders
This no-zip stroller is designed to make things easier for pet owners. It uses the no zip technology with an easy-locking latch so you can easily gain access to your cat without fumbling with zippers. The NV pet stroller features a plush bolster pad for cushioning, air ride tires for a smoother ride, and an elevated paw rest.
Equipped with the front locking and air ride wheels, this carriage provides a smooth and comfortable ride over rough terrain. Your pet will enjoy the panoramic view through mesh windows with a three-position canopy. If you have multiple pets then this comfortable stroller is the perfect choice.
Moreover, the model features a water-resistant fleece pad and a weather cover that allows you to use it in case of a rainy day. It can support weight up to 27 pounds. This lightweight product is available in a range of colors on Amazon.
Specifications:
Dimensions – 28 x 12.5 x 22.5 inches
Weight – 27 pounds
Features – Bolster pads, Air ride tires, No-zip technology
3. BestPet New Pet Stroller
The BestPet 3 wheels stroller is another fantastic product with excellent features that makes every pet owner happy. The product is made up of high-quality and long-lasting oxford material. The durable mesh screen window provides airflow, visibility, and keeps bugs at bay.
The double front wheel can rotate 360 degrees on rough terrain and off-road tracks. It has a large undercarriage where you can store your belongings as well as a convenient cup holder. The product is easy-to-assemble with some simple instructions.
You can easily hold the carriage using a rubber grip handle. The product is well designed to provide your cat comfort without making it feel cramped. Besides being comfortable, this product is lightweight and can support a weight up to 11 pounds. This model has almost all the amazing features you would expect in an ideal stroller. It is available in different color options: black, blue, pink, purple, and red.
Specifications:
Dimensions – 29.5 x 17.7 x 38.2 inches
Weight – 25 pounds
Features – Mesh screen windows, rear brakes, safety tether, cup holder
This model by VIVO offers a great traveling experience on a rough terrain. Whether you go for a jog or stroll, this product will offer you and your pet a smooth and comfortable ride. It has three zipper access points that allow you to easily get your cat in and out of it.
This product is easily collapsible and easy-to-handle. It includes mesh screen windows to provide your pet with a panoramic view of its surroundings. If you're going for a walk in a humid climate, then it is important that your pet is getting enough air and this product is perfect for that. This carrier is a perfect choice for a medium-sized pet as it supports weight up to 27 pounds.
Other great advantages include a center tray, dual cup holders, and a spacious basket so that you can store personal belongings while you go for an outing with your pet.
Specifications:
Dimensions – 19 x 12 x 19 inches
Weight – 30 pounds
Features – Wide mesh windows, Dual cup holders, and a centre tray
5. HPZ Pet Rover Premium Stroller
The HPZ pet carriage boasts a human-grade suspension feature to offer a smooth ride. The large front wheels rotate a full 360 degree on any track. The brakes are provided on both the front and back wheels for sudden stops.
The product has easy-latching buckles rather than zippers to open and close the carrier. This model includes two washable pads and a mesh top. The sturdy and lightweight product is easy-to-assemble. It is made up of UV-reflective and high-density odorless material.
If you are looking for an SUV ride then this product is a perfect choice. Built with the aluminum alloys and stainless steel tubes, the HPZ pet rover carrier provides long-lasting performance. You can easily accommodate your pet cat of different sizes as this product has a solid construction, spacious interior, and user-friendly design. This pet stroller is available in several colors: Blue, midnight blue, and red.
Specifications:
Dimensions – 30 x 22 x 42 inches
Weight – 22 pounds
Features – Human grade suspension, front and rear braking system, Convertible Compartment, pump-free rubber tires
Important Things to Consider When Buying a Cat Stroller
When choosing a pet stroller for your cat, there are several factors to consider. Here is the essential checklist when shopping for a pet carriage:
Comfort
The motive of a cat carriage is not only to bring your pet on an outing but to offer complete comfort. Choose a product that has soft bedding and cushioning for your pet. Make sure the compartment has enough space for the pet to comfortably sit, stand, and move around. The carrier should have larger wheels to handle rough terrain and a good ventilation system.
Safety
It is important to consider the safety and security features while choosing a stroller. The product should be secure enough to avoid any risk and stop your pet from escaping. Some carriages come with seat belts and harnesses for safety purposes. Make sure to choose the best material for carrying your pet cat.
Durability
Make sure to choose a stroller that would be able to withstand regular use. The carrier needs to be strong enough that it can support the weight of your cat. You should check out the wheels, framework, and fabric of the product. Each of these components should be designed to last long so as to avoid any accidental injuries. Pick a product that is economical and user friendly.
Size
Size is always an important factor to consider when choosing a carriage for pets. You should pick a model that is large enough for your cat to move around. Your pet should have enough space to feel safe and comfortable. Choose the right size carriage, neither too large nor too small. You can measure the height of your pet to find the right size stroller.
Washable
Your kitty may make the compartment dirty and you will have to clean it. So, look for an eco-friendly material that is easy to clean. You should prefer a stroller that is machine washable.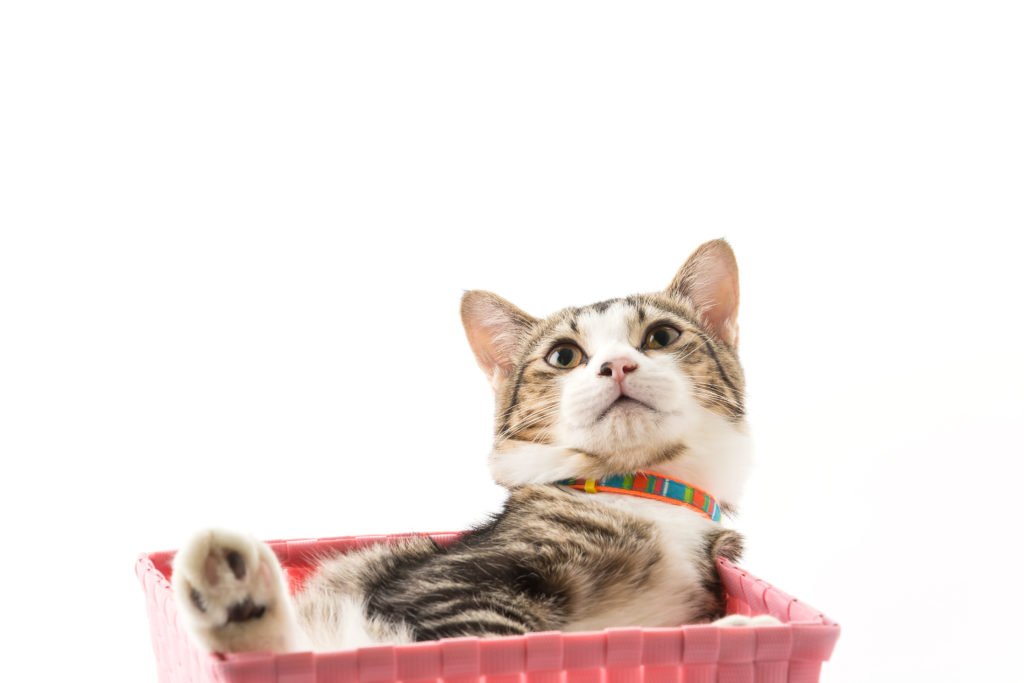 Frequently Asked Questions
How can I train my kitty to stay in a pet stroller?
Generally, the strollers are secured with zippers or locking latches to prevent pets from escaping easily. However, I recommend giving your furry friend adequate time to get used to the carriage before you go on a ride.
How do I fold and unfold my cat's stroller?
Here are easy tips to properly fold and unfold your pet carrier:
Look for the manual that came with your product and read it carefully once. All the instructions are mentioned in the product's manual.
Most strollers have handles or a lever on their sides. All you need to do is pull them up or push them down to fold and unfold them.
Some cat strollers come without handles. In case, you should look for the screw bolts. Try to swipe the screw bolts on the left side to unfold the carrier or vice-versa.
Can we use a dog stroller for my cat?
Yes, you can use a dog stroller for a pet cat. There is no major difference between the two. However, some carriages are specifically designed for cats. Make sure to choose the right size stroller to comfortably accommodate your pet.
If you have more questions, please leave a comment below and I will get back to you.
Conclusion
The right stroller can provide you and your cat a fun and enjoyable experience. It is a convenient way to spend time together while enjoying fresh air. Choose a cat carriage that is sturdy and durable, and convenient to carry. All the carriages I discussed are the best ones available in the market. My personal favorite is the Paws & Pals Pet Stroller as it offers safety and convenience on rough tracks. With the help of this review guide, you can select the perfect stroller for your kitty. Do share your thoughts in the below comment section.
Subscribe
Subscribe to receive latest news and articles from us.