A day out with your furry friend is always fun. However, traveling with a pet can be a bit tricky if you're not fully equipped with travel accessories. Whether your adventures are near or far, a travel bag makes it simple to travel with your little pet dog. Having a dog carry case is a good idea to organize all of your dog's stuff. Also, it can make traveling much easier for you and your pet. In this article, I am giving a review of the best dog travel bags, with their pros and cons. Besides this, I will share with you everything you need to know before buying a dog bag.
Our Top Pick
I've searched and compared traveling bags and based on my research, Top Dog Pet Gear Travel Bag is my top pick for you. This airline-compliant bag is a perfect choice for long trips, camping, hikes, and dog-sitting. Comes with a variety of accessories and a 100% satisfaction Guarantee.
Below I've listed some of the coolest puppies bags that you and your pet will love. I have considered a lot of factors including size, material, design, or more, and compiled this list to help you choose the right one.
Top 5 Picks for the Best Dog Travel Bag
1. Top Dog Pet Gear Travel Bag
With ample storage and much-needed accessories, the Top Dog Pet Gear Travel Bag can be an ideal choice for your next trip with your pet. Features multiple compartments and pockets, this bag provides easy access to your dog's stuff. You can easily store your dog's belongings in a single place. The product has a magnetic sleeve pocket, a zippered side pocket, a mesh storage pocket, and a water bottle holder.
The bag meets airline carry-on requirements so you can easily travel by air. Features adjustable straps, this dog travel bag offers great comfort during long-distance travel. The bag includes two silicon collapsible water bowls to keep your dog hydrated and two lined food containers. Both the Collapsible bowls can hold up to 16 cups of food or water. Also, each food container can hold up to 13 cups with a total of 26 cups. This traveling bag has a 100% satisfaction guarantee.
2. PetAmi Travel Bag for Dogs
Whether road-tripping, hiking, or camping, the PetAmi Travel Bag keeps dog's stuff organized and accessible on the go. Owners can store and easily access pet toys, treats, bowls, food, leashes, and more with its large compartments and several functional pockets. Built with durable, water-resistant polyester material that is easy to clean. The outer shell of the bag is made of oxford material with waterproof inner lining and PVC backing. PetAmi provides several travel bags and dog carry cases.
Includes two collapsible bowls to keep your dog hydrated and two food containers to feed it. Features adjustable shoulder straps and padded handles to offer you extra comfort. When measuring, it is 15.5 inches in length, 9.5 inches in width, and 14 inches in height. Each food container has a capacity of up to 5L in volume. This dog bag is available in multiple color options on Amazon and you can choose any out of them.
3. Bundaloo Pet Travel Bag
Bundaloo Dog Accessories Bag is a travel-friendly carrier. This Puppies bag is a great option for outdoor activities like camping, overnight riding. Convenient design allows for easy storage and transport. Provides loads of space along with additional pockets to store dog's belongings like food, water, treats, toys, and other accessories in one portable bag.
Includes two collapsible bowls and insulated food containers to ensure the food is kept fresh. The bag is made of high-quality, durable material with heavy-duty stitching. Moreover, the adjustable padded straps provide you with extra comfort during long-distance travel. The bag meets airline carry-on requirements so you can easily travel by air. When measuring, it is 13.5 inches in length, 10.25 inches in width, and 7 inches in height. Comes with a two-year warranty period.
4. Overland Dog Gear Weekender Backpack
Designed with heavy-duty quilted polyester material that is easy to clean. This bag allows pet owners to expertly pack and organize their dog's stuff and other accessories in a single place. This dog bag includes two lined food containers and two silicone collapsible bowls to store food or water. This bag is a great choice for hands-free traveling.
Features loads of space, large storage, multiple pockets, a waste bag dispenser, or other accessories. One of the best features of this bag is a waste bag dispenser. An extra mesh pocket is included to carry a water bottle along with a secure zipper to store your belongings like mobile phones. Features an adjustable padded shoulder straps and a luggage ID tag. Besides this, it meets the Airline Carry-on requirements. This product is available in two color options on Amazon: black or pink.
If you're looking for a good-quality product with awesome features then the Unique Dog Travel Gear is a perfect option. It not only contains the basic functions of a pet travel bag but also safety features. One of the amazing features of the Unique Dog Gear Travel Bag is the elevated bowl stand. An elevated bowl stand is an ideal choice for dogs who eat fast and it prevents the dog's digestive and joint problems. It includes two food containers and each container can store up to 20 cups. Also, it has two stainless steel bowls that can store up to 1.6 cups of food or water each.
Comes with some safety solutions and one of those is the first-aid bag. A perfect-sized first-aid bag has a lot of pockets and a hook for hanging items inside the bag. It can be fitted perfectly in the mesh liner of your bag. The product is an ideal choice for small and medium-sized dogs. This bag is backed by 30 days satisfaction guarantee with two months replacement warranty.
What to Consider When Buying a Dog Travel Bag?
Size
Before buying a bag, make sure to consider the size specifications of a bag. Pet travel bags come in different sizes so take some time to choose the perfect size for your pet. You should figure out how much space you need for your pet's belongings. Ensure that you choose a suitable size, neither too small not too large.
Material
One of the important factors to consider the material of the product. Make sure to pick a bag that is strong, sturdy, and durable. Also, look for a bag that is made of eco-friendly and waterproof material. A waterproof bag will be able to keep your dog's accessories protected on a rainy day. Pick a bag that has adjustable straps and padded handles for added comfort.
Storage
Always pick a bag with multiple compartments and extra pockets so you can expertly organize your dog's stuff. An ideal travel bag is more spacious and convenient. So, look for a bag that includes mesh pockets with zippers or elastic enclosures to secure all the belongings.
Design
Before choosing a pet bag, consider how long you hold the bag. Consider whether you need a backpack or a crossbody bag. A backpack could be a better choice if you will have to walk with it for a long time.
Other Features
Pick a bag that comes with included products such as dog bowls, food containers, toys, blankets, and first-aid bags. Collapsible bowls and food containers simplify your travel and keep your pet hydrated. Insulated food bowls keep your pet's food safe and fresh during long trips.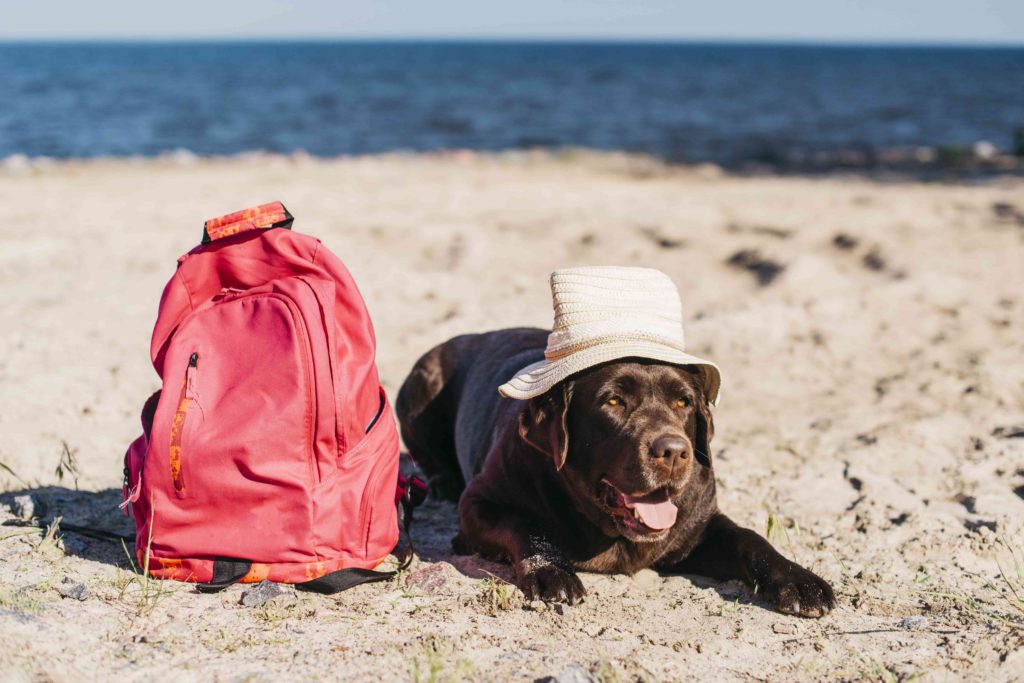 Frequently Asked Questions
What travel bag does my dog need for a weekend trip?
It depends on where you plan to go and what to do on your trips. You will need to store the dog's leash, toys, food, water, harness or collar, pop bags, first-aid kit, and other belongings on longer trips.
Should I buy a waterproof travel bag for my dog?
Yes, you should choose a bag that is durable and waterproof. Having a waterproof bag can help keep your dog's stuff safe and dry on a rainy day. Make sure you pick a bag that is made from high-quality and durable material.
Why should I buy a travel bag for my pooch?
If you're enjoying traveling with your pet, investing in a good travel bag is a must. A durable, high-quality bag can make your traveling easier with your dog. A dog carry case organizes all the stuff like food, water, and important accessories such as treats, toys, or more in a single place. Also, you can gift this product to your relatives, friends who travel with their pet dog.
Summary
Aside from the safety of your dog during the trip, you have to prepare for it. So, it's important to pick a travel bag that has all the basic features like water bowls, toys, food containers, or more. Choose a bag that has enough space to store all the accessories like water, food, leashes, toys, and even blankets. There is a range of products available in the market and it can be a bit difficult to pick the one out of them. I've mentioned the best dog travel bags in the above-provided list to help you find the right one. My personal favorite is the Top Dog Pet Gear Travel Bag because it is more spacious, durable, and well-built. Feel free to share your views in the comment section below.
Subscribe
Subscribe to receive latest news and articles from us.