7 Best Dog Water Bowls (Updated 2020)
Keeping your dog hydrated is essential for their health and well-being. However, you as a pet parent are always looking for fool-proof products that can make things easier for you and your furry friend.
If you're tired of cleaning the mess every time your dog creates when he or she has a sip then you've come to the right place. In this article, you'll find everything you need to know about the best dog water bowl and what to look out for when you're shopping for one. We'll also review some of the best products on the market to help you pick the right one.
Reviews of the Best Dog Water Bowls
Dogs can be messy, especially when they're enthusiastic and all over the place. Add water and you're in for some serious cleaning whenever your dog drinks. This is why we've searched the market to find you some excellent water bowls that will keep your pooch hydrated and you very happy. Check out our top picks.
1. Indipets Stainless Steel
Featuring unique anti-splash design, this bowl comes in three different sizes so you can pick the right one for your dog. It also works for wet food and can be used for puppies and cats.
This non-tip water bowl is the best choice for an active dog that keeps on spilling water. It's made of durable scratch-resistant stainless steel and features an anti-skid rubber base. This base keeps it in place and prevents accidental spills that can make your life harder.
There's a special stainless steel lip that fits on top of the bowl to prevent spills if your dog gets overly active. All the parts, except for the rubber base, are dishwasher safe. The bowl and the removable lip are also easy to clean by hand.
You can easily pick this bowl for cleaning thanks to the built-in handle. It's chew-proof and treated to prevent rust. This will guarantee that it will always stay shiny and ready for use.
Placing and taking the anti-spill rim off is a bit difficult but you'll learn to do it. You'll have to press on it properly to make sure that there are no spills and you should take it off to clean the bowl thoroughly, especially if you're using it for food. It works best for smaller dogs and cats.
2. Bergan Standard Dog Bowl
Forget about your dog chewing on the sides of the water bowl because this one is made of stainless steel. It's extremely durable and treated so it won't rust. This is an excellent choice for dogs as well as cats.
There are several sizes available so you can pick the one that suits your dog's needs. This water bowl is dishwasher safe so it's extremely easy to clean. It can be used indoors and outdoors because it won't get affected by the elements. No matter where you keep it, it will always look good.
If you don't want to use the dishwasher, you can easily clean this bowl by hand. If you use it for food, rest assured that food particles won't get stuck so it's always ready for the next snack. As a bonus, this dog bowl is extremely affordable.
The wide opening appeals to bigger dogs that won't struggle to have access to food and water. It's bacteria-resistant and heat-resistant so you can guarantee that your furry baby is always safe. Moreover, if you have a very little puppy, this can be the perfect bathtub for them.
You might struggle a little to remove the sticker at the bottom of the bowl. You'll have to remove the glue residue if you choose to take the sticker off. If you keep the bowl outside, make sure to put something inside to hold it down, especially if it gets too windy.
If you don't mind spending the extra cash, you should check this one out. The manufacturers of this water bowl found a way to keep your dog hydrated while staying dry. Your dog's ears and face will not get in contact with the water which also guarantees that the water will stay clean whether you have a flat-faced dog or a snouted dog.
There are 5 models available so you pick the right one for your dog's breed. It reduces water spills by 85% which also means that your floors will always be clean and dry. Moreover, this eliminates the risk of accidental falls from wet floors so can rest assured that your family is safe.
Due to the design of this water bowl, your dog will have to drink slowly even if they're very thirsty. This is healthy because it reduces the risk of choking. It can be used as a food bowl but it excels as a water bowl that can be used inside and outside the house.
You shouldn't worry about water or food reacting with the bowl because it's made of food-grade stainless steel. It's also BPA-free and is coated with a special finish that maintains its shine.
However, your little furry friend might struggle a little to learn how to use it properly. It also comes with a hefty price tag.
Worried about your dog's water freezing? If you live in a cold climate, this is the right water bowl for your furry friend. It features a thermostatically controlled heater that prevents the water from freezing even if the temperature drops below zero so you can always guarantee that your dog has access to healthy clean water.
If your dog spends most of its time outside, then you should add this water bowl to your shopping list. The 5.5' steel power cord is safe because it features a chew-resistant design so you can rest assured, even if you're leaving your dog on its own. All the electronics are safely sealed inside the bowl to guarantee the safety of your dog.
Don't worry about your electricity bill because this bowl is energy-efficient. It uses 25 watts to maintain the temperature of the water even when the outside temperature drops to -20 degrees Fahrenheit. You can also switch it on and off according to your needs. The energy it uses is less than what is needed for a light bulb so it won't affect your energy bill.
The bowl itself is made of scratch-resistant granite so it's extremely durable. The plastic parts are BPA-free for more safety. There are three sizes available so you can pick the one that suits your pet. This bowl can be used for your cat or any other pet you keep outside the house.
Some maintenance might be needed to ensure that the heating cord is working the way it should. If the temperature drops below the specified level, you might see some ice forming on top of the water. It would be a good idea to bring your pets inside in that weather.
For people who live in a sub-zero climate, this is another practical water bowl that heats the water and prevents it from accidentally freezing. This bowl is extremely easy to clean and refill as it features a wide opening that will provide easy access to your dogs, cats, and other pets.
The thermostat is set so it will only work when needed. This guarantees that it won't use unnecessary energy that might affect your energy bill in the long run. The power cord is anti-chew so it's safe and will last for long.
The twin-wall construction is more durable so your dog won't chew on it or break it. The anti-tip design is specifically made so your dog can drink whenever he or she wants without creating a mess in your house.
Because it has a capacity of 1.5 gallons, this might be more suitable for bigger dogs. It uses 60 watts to keep the water thawed. However, you can switch the heater on only when needed, giving you full control over the way it functions.
The cord measures 5 feet so you can set it up away from a power source. The bowl is made of plastic, so it might not be as durable as stainless steel products. Nevertheless, it's quite easy to clean.
Offer your dog water in this affordable water bowl because it's made of non-toxic metal that doesn't react with water or food. The mirrored bowl can be easily cleaned guaranteeing that your dog will always be safe and healthy.
It's designed to last for long because it's made of stainless steel. It doesn't show any signs of rust and will stay shiny. Moreover, the anti-skid design keeps it in place in case your dog gets too enthusiastic while drinking. This will make clean up so much easier so you don't have to worry about removing the rugs if you keep your dog inside.
If you're worried about BPA, it will be a good idea to stick to this simple yet potent water bowl. Metal is easy to clean and food particles will not stick to the sides. There are no corners where bacteria can grow so it's recommended if you have a busy household so you can make sure that your dog is always safe.
Due to the weight of the metal, your dog won't be able to move it around. The rubber base will keep it stable on the ground. Your floors will always be dry and clean so no one will accidentally slip. If you have a puppy, this might be the right product for you.
You should know that after some time, the rubber base might start to crack, especially if you keep it outside a lot. Your chewer might also be tempted to chew the base but it would still work.
7. Prestige Road Refresher
Once you buy this water bowl, splashes and spills are guaranteed to decrease by 90%. You and your dog will have the best of time because he can drink whenever he wants and you won't have to mop the floors every hour.
This is the perfect water bowl for your dog if he or she has long ears because it keeps their ears and faces away from the water. It limits the amount of water your dog has access to so he or she won't drink too fast which is better for their health in the long run.
It comes in 2 different sizes and is perfect especially for flat-faced dogs that struggle with other types of water bowls. This is an excellent choice for travel because it minimizes the mess when you're taking your dog away from home. The tapered water bowl and the floating plate can be easily disassembled and are dishwasher safe.
The manufactures of this water bowl came with an innovative design that provides steady water flow at all times but will restrict it if there's a violent movement like kicking so water won't spill. Moreover, there's a cover that prevents evaporation and contamination of water even if you keep it outside.
To guarantee more stability, there's a Velcro base that secures it to the floor. The bowl also comes with some fixing pads so you can secure it to most surfaces for a better experience. However, knowing how much water is left inside the bowl is a challenging task because you can't see the level of the water clearly.
How Much Water Does my Dog Need?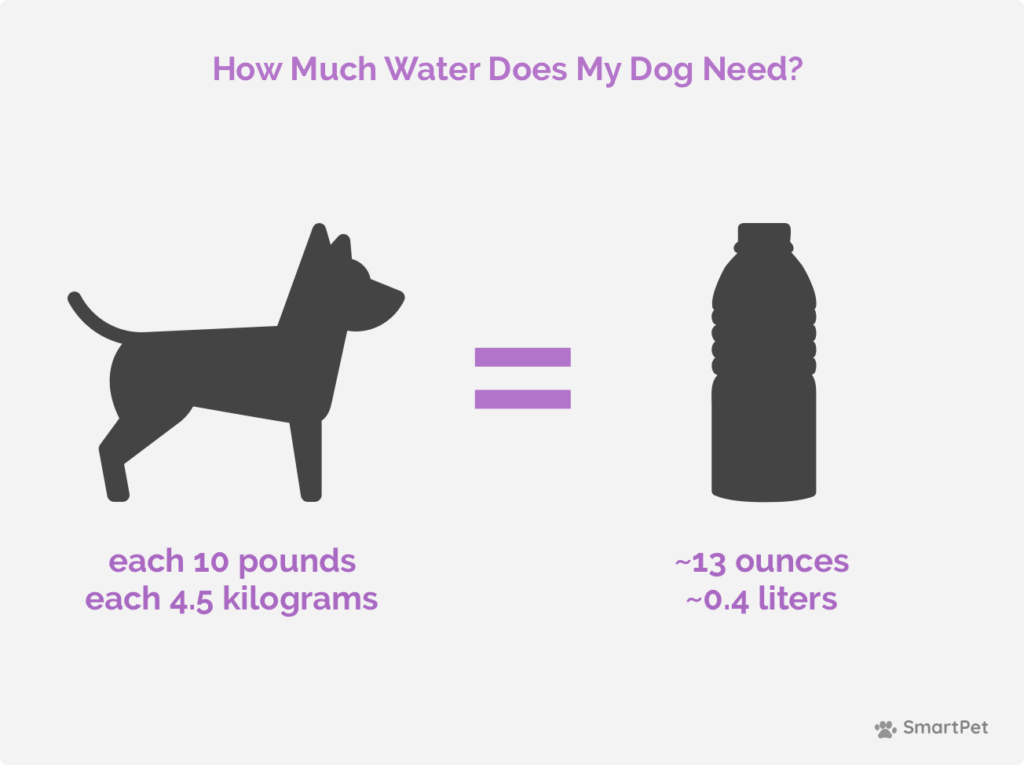 Does your dog seem thirsty all day? Dogs can't tell you how much water they need so you must keep an eye on them to know if they need to drink. However, too much water might not be healthy for your furry friend.
Lots of pet parents don't know how much water they need to provide their pet babies with. Water nourishes your dog and keeps him or her active. Nevertheless, you need to be careful about the amount of water provided so they can always stay in perfect condition.
An average dog drinks between 8.5 (0.25 liters) and 17 ounces (0.5 liters) of water per 10 pounds (4.5 kg) of body weight. There are several factors that affect the amount of water that your dog will need every day.
Weather
Just like humans, your dog will need more water in summer than in winter. The high temperature makes the dog thirsty and you'll have to add more water to the bowl to keep him or her in perfect health.
Size
Bigger dogs need more water. This is true because, just like us, most of the dogs' bodies are made of water so they need enough water to keep their organs functioning the way they should.
Activity Level
An active dog will need more water than a couch potato. If your dog is all around the place jumping and playing, he or she will lose more water that should be compensated as soon as possible. You can tell that your dog is dehydrated if he or she has red eyes or sticky gums.
In severe cases, your dog's skin might seem too dry. If you notice this, then you should take your dog to the vet.
How to Choose the Best Dog Water Bowl
Since there are lots of options on the market, finding the right water bowl for your dog might be a bit tricky. Here are a few things to take into consideration.
Material
Water bowls come in all shapes and types. Stainless steel water bowls are extremely popular because they're durable and easy to clean. Most of them are treated so they won't show any signs of rust. They're also suitable for chewers because they can't chew on the metal.
Plastic is an affordable option and is lightweight. If you're spending a lot of time away from home, you need a lightweight and practical plastic water bowl that you can easily move around.
Some water bowls might be made of granite or combine plastic with metal. Anti-skid water bowls will have a rubber base that secures the bowl to the floor.
Size
When you're thinking about the size, you should consider the wideness of the bowl and the depth. Flat-faced dogs have a tough time trying to drink if the water bowl is too deep. It will also be a bit challenging for smaller dogs and puppies.
Some models have a floating plate that prevents the face and the ears of the dog from getting into the water. If you have a big dog, you should make sure that the neck is wide enough so he or she can get all their needs covered.
Anti-Spill
We know that you want your dog to stay hydrated but you don't want your water bowl to tip over. Dogs can be too enthusiastic so they might accidentally knock the water bowl. You should make sure that the weight of the bowl will support it so it can stay in place.
Some water bowls have rubber rims that keep them stable. Some models are even designed to prevent the water from rising to the top of the dog accidentally tries to tip the bowl over.
Extra Features
Having some extra features on your dog's water bowl will make things more fun. These features include a heating cord that heats the water to keep it at an appropriate temperature. This is extremely helpful, especially if you're living in cold weather.
If you keep your dog outside, you should look for a water bowl with a cover. It will prevent evaporation and contamination of water.
Wrap Up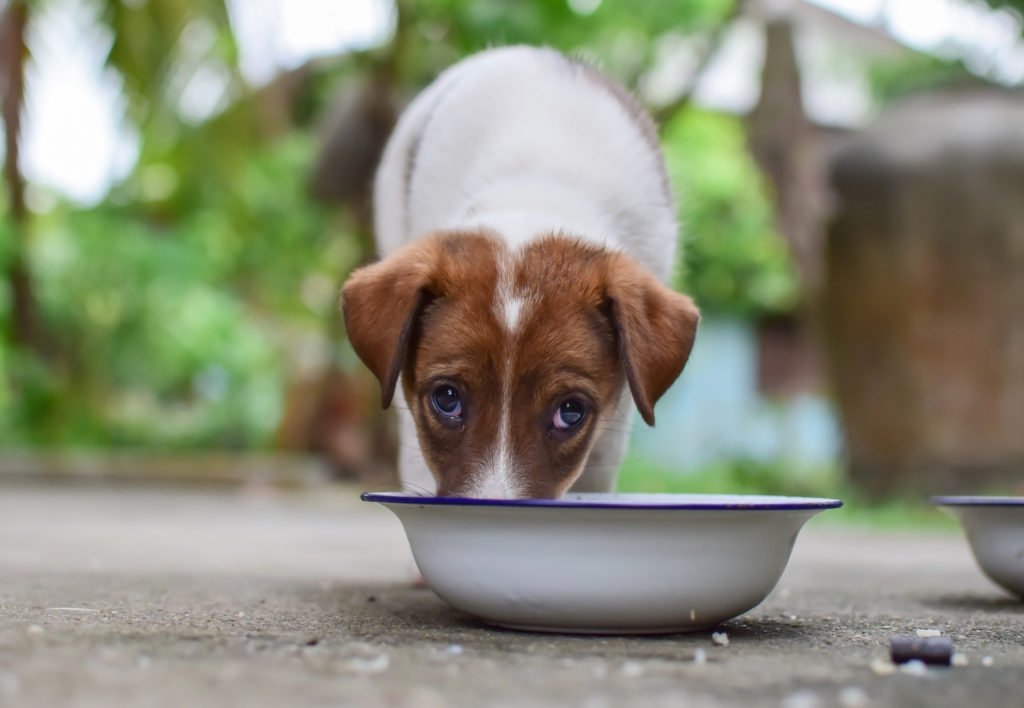 In this article, we looked at some of the best dog water bowls to help you find the most suitable one. We chose the Indipets Stainless Steel Spill Proof as our top pick because it's smartly designed to minimize spills while providing your dog with the necessary water. It's quite affordable, too.
As a second option, we recommend that you take a look at the Bergan Standard Dog Bowl. This is a basic stainless steel water bowl that can be easily cleaned. It's built to last for long.
If you're willing to splurge, we strongly recommend the Slopper Stopper Dripless Water Bowl. It decreases the percentage of accidental spills. Your dog will drink slowly which is also better for their health.
If you're planning to go away for the day, be sure to leave enough water. The best way to solve this is to use automatic water dispensers.
Almost all of the water bowls on the list will work for cats and other pets as well. Some of them can also be used as food bowls. Remember that water helps your dog function. You should make sure that the water bowl is filled at all times so you and your dog can enjoy your time together to the maximum.

Subscribe
Subscribe to receive latest news and articles from us.