A comfortable carry bag is a great accessory to have if you are a rabbit owner. We all know that rabbits are super cute and wonderful pets. They are very delicate and don't like to stay alone hence you need to be extra careful while transporting them. Keeping your pet rabbit inside a carrier is important while traveling in a vehicle. Whether you take your bunny on a road trip or to the vet for a regular checkup, it needs to be in a safe carrier. Choosing the best rabbit carrier bag can be difficult. Today, we will share everything that may help you get the perfect bunny carrier.
Our Top Pick
After researching and comparing hundreds of bunny travel carriers, I think Anzone Pet Portable Carrier will be the safest bag for your little pet! This rabbit backpack is the most convenient way to keep your bunny safe and secure. The Anzone Pet rabbit bag is spacious, waterproof, and has a great design.
Here is the list of the Best Rabbit Carrier Bags
1. Blitzwolf Anzone Pet Portable Space Capsule
This strong, sturdy and comfortable Anzone Pet Backpack takes the first spot in our list of the best rabbit backpacks. This backpack is specially designed to make your rabbit's travel experience less stressful. It comes with a space capsule design along with a semi-spherical transparent window that gives your bunny a spectacular view.
The Anzone Pet Portable bag is made of eco-friendly polycarbonate cloth that keeps your bunny dry on a rainy day. The inner shell of the bag is made from soft oxford cloth. Also, a soft cushion pad is placed inside the carrier to make your pet feel comfortable.
It has an ergonomic design that keeps the pressure off your spine and allows you to wear the bag for hours. An extra pocket is provided on the outer side of the bag to store your belongings. This backpack can handle weight up to 10 lbs.
2. PetAmi Rabbit Travel Bag
This is a great option for owners who want to carry their pets for outdoor excursions such as hikes and bike rides. This lightweight carry bag is made of soft oxford fabric that is comfortable for you as well as your pet rabbit. The product features a breathable mesh so your bunny gets enough fresh air. Soft bedding is lined inside the carrier to keep your bunny calm and relaxed during long-distance travel.
This product is 11 inches long, 16 inches high and 9 inches wide. The PetAmi Travel bag is very spacious and roomy and is very comfortable for your pet. The backpack includes a collapsible water bowl to keep your rabbit hydrated throughout the journey.
This backpack is best suited for small and medium-sized pets up to 8 lbs. Please check the weight of your rabbit before purchasing it. It is available in multiple colors on Amazon: Gray, Black, Red, Pink, Light Blue and Royal Blue.
3. Petsfit Comfort Backpack
The sturdy and comfortable Petsfit Comfort bag is a great choice for your rabbit on longer trips. Featuring padded and adjustable shoulder straps, the Petsfit Backpack allows you to maximize your comfort during long-distance travel.
Due to its ergonomic design, it keeps pressure off on your back. The product has mesh windows to provide ventilation for your pet and a zip-up window on the top side so your bunny can put his head up and look around.
This product is 16 inches long, 9 inches wide and 9 inches high. This backpack can support a weight of up to 7 pounds. This carry bag can be easily folded down flat for storage. Before buying, do measure the weight and dimensions of your pet.
The Yudodo pet sling bag is an ideal choice for hand-free traveling. Whether you go for annual vet appointments, weekend trips, or other fun activities, this tote bag offers great comfort to your bunny. The bag features a padded mesh and an adjustable shoulder strap with a strong buckle to give you extra comfort while carrying your pet.
The product has a mesh top and PU leather bottom so that your rabbit gets enough air and can look around his surrounding areas. You can easily adjust the bag to any size with the drawstring. For extra security, a combination of zippers and Velcro closure is provided as well.
This cute tote bag is available in two sizes on Amazon. Make sure to measure your bunny and purchase the right size. With a net pocket to store your belongings, the Yudodo pet sling bag is all you need.
Things to Consider When Choosing a Rabbit Carrier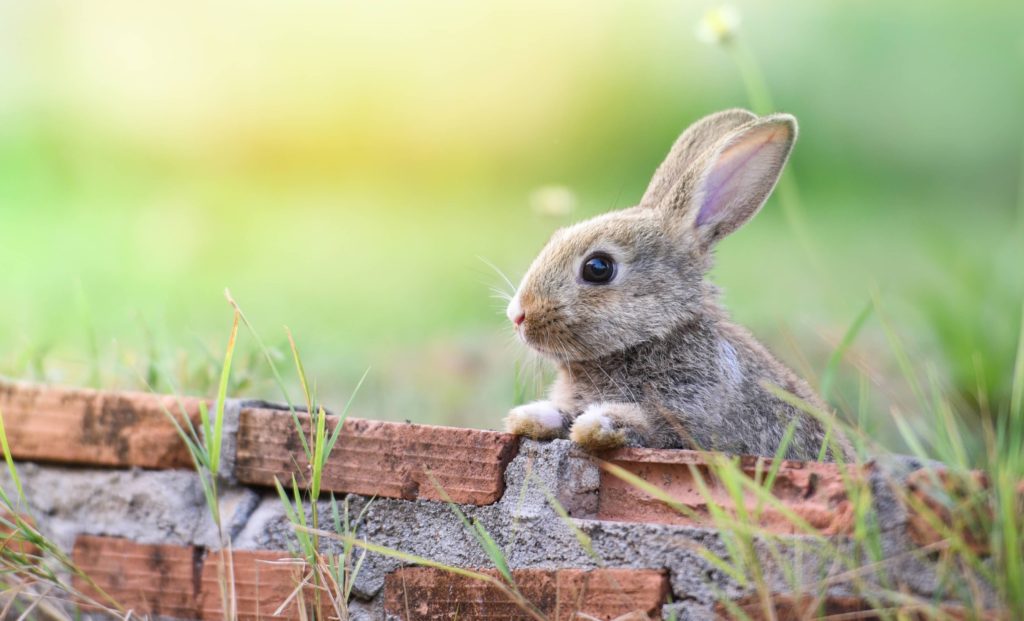 Material
A pet travel bag needs to be made from non-toxic and eco-friendly materials. You should pick a bunny carrier that is strong, sturdy, and chew proof. Waterproof material keeps your bunny dry on a rainy day. If you have more than two rabbits then you may need to consider a carrier with an adjustable shoulder strap.
Size
Choosing the right sized carrier for your bunny is probably the more important factor. A rabbit carrier must offer enough space for the bunny to comfortably stand up and lay down. Make sure to choose a suitable size, neither too big nor too small.
Comfort
Choose a carrier that has enough ventilation. The carrier must have mesh windows along with an ergonomic design. Be sure to pick a backpack that is more spacious and roomy for your pets.
Frequently Asked Questions
What size of backpack do I need for my pet rabbit?
Before buying a backpack for rabbits, measure the size and weight of your bunny.
How can I wash my bunny travel carrier?
Spray with a water hose and use a piece of cloth to clean the rabbit bag.
Conclusion
Different types of backpacks for pets fulfill different needs. We hope our best rabbit carrier bag guide helped you find the right carrier for your pet. In my opinion, Anzone Pet Portable bag is the perfect backpack as it is more spacious and roomy. The outer shell of this bunny carrier is waterproof. It has eco-friendly fabric that is easy to clean. You can also easily fold it, unlike other travel bags.
Stay tuned for more articles like this. If you have any questions related to the Rabbit backpacks, ask us now. Feel free to share your views in the comment section below.
Subscribe
Subscribe to receive latest news and articles from us.