Water plays an important role in everyone's life. Animals also require water just like humans to hydrate themselves. Water bottle is a crucial part of any rabbit cage so that the rabbit can drink water whenever it feels thirsty. It can be used for keeping your bunny hydrated, for feeding purposes as well as administering medicines if it gets ill. Choosing the right water bottle for your pet can be a hassle as there are dozens of water bottles available in the market to choose from. Hence, we are going to discuss the top 5 best rabbit water bottles so as to help you choose the best and most convenient one for your pet.
Our Top Picks
When it comes to finding a water bottle for your pet rabbit, Choco Nose H128 is on the top of our suggestion list. Go through our review guide to choose the most appropriate one for your little friend. Here we have also explained the tips and tricks to find the right products for your pet. Given below are the reviews for the 5 Best rabbit water bottles according to us.
1. Choco Nose Rabbit Bottle
This water bottle is the perfect choice for your little one as it is made from BPA free material.
This bottle is leak proof which means that you will not have to clean the cage very frequently. It has a mini size nozzle of 10mm which makes the installation quick and the user-friendly screw on the bracket makes it easy to handle. You can simply snap the water bottle open or closed for cleaning and refilling the water. It is recommended to inspect the water bottle regularly when you refill it by tapping on the metal ball inside the nozzle to make sure water pours out. As you hit on the metal ball, air bubbles are formed which means that the bottle is ready to be used.
2. Farm Innovators Rabbit <strong>Bottle</strong>
Farm innovators model HRB is on the 2nd position and it's a pretty good choice for your bunny as it is made with an easy to attach fixer wheel so that you can fix it on the side of the cage. All you need to do is to simply turn on and off the bottle by using screwing cap. Once you have cleaned and refilled the bottle, shut it off tightly and it is ready to use. It is a completely leak-proof, easy to handle water bottle served best to avoid any spillage. If you are residing in an area where you experience below freezing temperature, then this heated bunny water bottle is the ideal solution for you as it prevents water from freezing. It only takes 20 watts of power to keep the water at an ideal temperature. It can be easily refilled from the top.
3. Kordon Rabbit Water Bottle
Kordon rabbit water bottle is another stylish water bottle which can prove to be the right choice for your pet. Its leak proof capability and bigger capacity of 32 ounces makes it a good option for an open-air hutch, as a frosted finish can help you to prevent it from sunlight. It is crucial to screw the lid tightly to prevent leaking. This bottle is the perfect choice for your bunny in all weathers as it comes up with a double ballpoint vacuum valve which makes it highly durable. The easy and quick installation makes it an amazing choice for your rabbit. It is available in a transparent color which makes it easy to notice any dirt particles in the bottle and to check the water level in the bottle so that it can be cleaned and refilled properly.
4. Lixit Glass Rabbit Bottle
Lixit water bottle is another great choice for you if you are looking for a quality water bottle for your little friend. It is easy to assemble and set up outside the cage of a rabbit or any other small pet. It can hold up to 64 oz of water and therefore, best suitable for a cage with multiple rabbits. This is the primary benefit of this bottle. The bottle is suitable in all weathers because of its stainless steel double point tube which is highly durable. This water bottle is surely easy to clean and refill which means you don't have to worry about the intricate details. It can be easily washed in a dishwasher. You can also add up a few drops of bleach while cleaning, which works as a disinfectant for the water-bottles to remove any germs.
5. SunGrow Rabbit Dispenser
This water bottle is on the 5th place in our list. It is easy to install and very convenient for your pet to drink water without making many efforts. It has a small nozzle size of 0.3 inches which is ideal for the little bunnies and puppies. The stainless steel ballpoints on the top of the housing allow a proper flow of water without any hurdles. It also prevents water –leakage which allows the cage to remain dry and therefore offering an enjoyable and hygienic place to live for your pet. The compact stainless steel material of the bottle helps you to keep your pet safe and works best for a long period. If you are away from your house for a long time, this one is the ideal solution for your pet.
Things to consider while buying Best Rabbit Water Bottle
There are endless options for water bottles that seem like a good choice. But choosing the most appropriate one is the tricky task. Hence, before buying any water bottle, let us discuss the essentials to take into consideration while selecting the right bottle.
Maintenance
If you are looking for the accurate water bottle for your rabbit, you must keep in mind that it should be easy to use and handle as the water bottle requires a little care while cleaning and refilling. So you should go with the bottles that require a quick wash.
Material
Material significantly determines the durability of bottles. Instead of regularly buying one after a short while, you can choose a long-lasting efficient bottle that works best for a longer duration of time. Try a BPA-free material to provide a healthy option to your pet. A decent water bottle must be made from solid material such as stainless steel or glass. You should avoid choosing plastic water bottles as they are chewable and may harm your pet.
Size of the bottle
Size of the bottle is an important factor to consider. It mainly depends on the age and size of your pet and utility purpose. Rabbits have different needs for water consumption as per their age and size. If you are a frequent traveler, or you have multiple pets, you require a bigger one and you can let them share the water bottle. It is also a convenient option as you don't have to fill it frequently.
Anti-Leakage
Keeping the rabbit's home hygienic and dry is another important factor to consider. By choosing a leak proof bottle, you need not clean the cage frequently. Non-leakage features are suitable for you as well as you will not have to refill the bottle often.
Nozzle
When it comes to selecting the water bottle, the design of the nozzle plays a crucial role. The nozzle of the bottle should be compact and long enough so that the rabbit can easily access it without any difficulty. It should be pet-friendly; hence ballpoint tubes can be better choices for you because rabbits can hurt themselves in the long-run.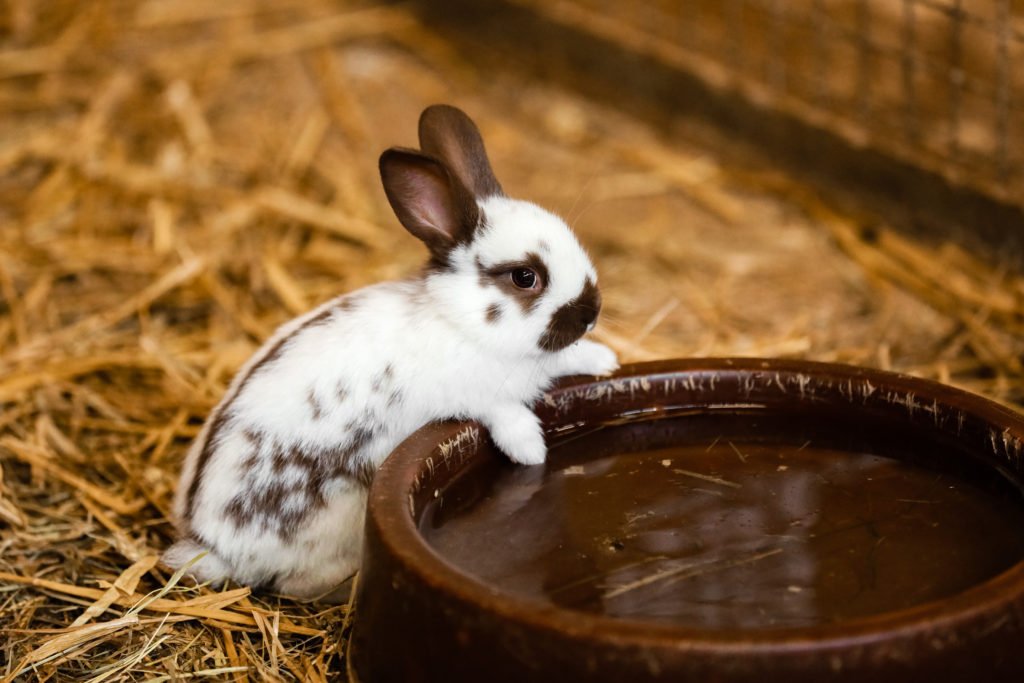 FAQ's
How to fix the water bottle to the cage?
First of all, you need to fix the bottle in such a way that it does not create any hindrance in the flow of water. For this, you need to turn the bottle upside down so that the rabbit can suck on the nozzle properly. You can also take a holder to attach the bottle to the cage if there is no other option to fix it with hutch.
How to clean up rabbit water bottle?
For cleaning purposes, it is advisable to clean the water bottle every week so that your pet can drink fresh water. You can scrub the bottle with a brush for best results. Bleach is a good disinfectant; you can use it to eliminate any slime build up in the water bottles. You can also use a dishwasher for glass water bottles.
Could I use a rabbit water bottle for other pets?
Well, the best thing about these water bottles is that they are specially designed for small pets like Rabbit, Ferret, Hamster, Guinea Pig, and Critter. So the answer is yes, these water bottles can be used for other small pets whenever required.
Conclusion
A perfect water bottle is a great way to keep your pets hydrated so that they can drink fresh and clean water whenever they are thirsty. Your furry friend can harm itself with bad quality water bottles, so it is your responsibility to provide it with a safe and comfortable one so that it can live a healthy and comfortable life.
Different water bottles discussed above are some of the best choices for your bunny. With the help of this best rabbit water bottle review guide, you can choose one that suits you the best. We hope this review guide will help you. Please share your opinions in the comment section.
Subscribe
Subscribe to receive latest news and articles from us.