How Large Should A Cat Carrier Be?
Transporting pet cats is never easy as they hate to go on unexplored places and leave their comfort zone. However, a good cat carrier can make the journey more comfortable, for both you and your pet. The comfort and safety of your feline friend needs to come first whether you go for vacations, annual vet appointments, or for fun activities. The right cat carrier is a great accessory to have if you are a cat owner.
Cats are naturally rambunctious and inquisitive. They don't just sit on the seat like dogs in a moving vehicle. If you allow them freedom in long distance travel, it could turn out to be quite dangerous for your furry friend. Your kitty needs to be in a decent carrier, whether you are going to the vet for a regular check-up or taking it for a long drive.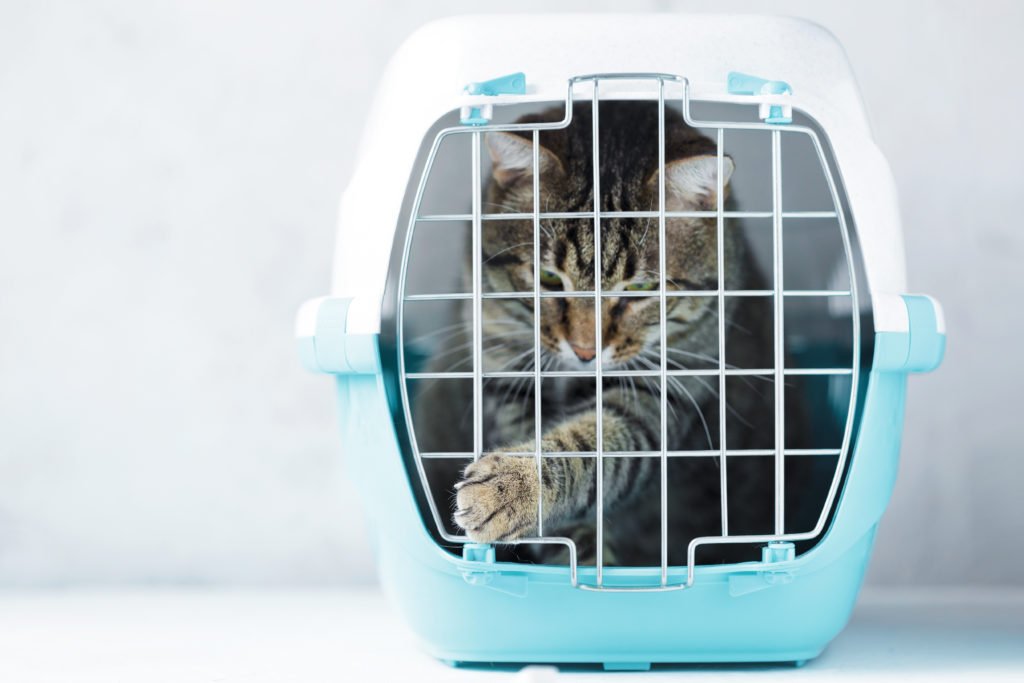 However, one thing which many cat owners seem to have trouble with is choosing the right size of the carrier. I know there are tons of carriers, cat backpacks and strollers available in the market and it can be a real task to choose the right one for your pet, which is why I am here to help you figure it out. I will share everything that may help you select the right sized carrier.
In order to help your pet cat feel safe and make your journey less stressful, it is of utmost importance that you choose a carrier that has an optimum size. You can take into account the following factors while buying a comfortable carrier for your cat.
Choosing the Right Sized Carrier for Your Feline Friends
If you want to make things easier, both for yourself and your cat, this might be a good place to start. Now, the question is 'how big should a cat carrier be?'
As a general rule, you can figure out if a carrier is of the optimum size for your cat by simply checking out its height and width. If your kitty can stand up without bending and turn around in the carrier then this is the right size to take your cat to a local vet clinic or for short trips.
However, if your purpose is long distance travel with your kitty then you need to consider a couple of other factors as well. Make sure the carrier has enough space to accommodate a food bowl and water bowl. It will be great for you and your cat if you can grab a pre-packaged cat carrier. Moreover, even though the carrier should offer enough space for your pet to turn around comfortably, it shouldn't be so large that the kitty can bounce around inside it. Larger is not always the better choice when it comes to a cat carrier. Let me explain! If you get a large carrier for your cat then there is a very high chance that it will spring from one side to the other. It is also hard for you to carry a carrier that is too big. I would recommend a size that will focus on your furry friend's safety while traveling. So, the best way to figure out what size carrier to get is to measure your pet cat.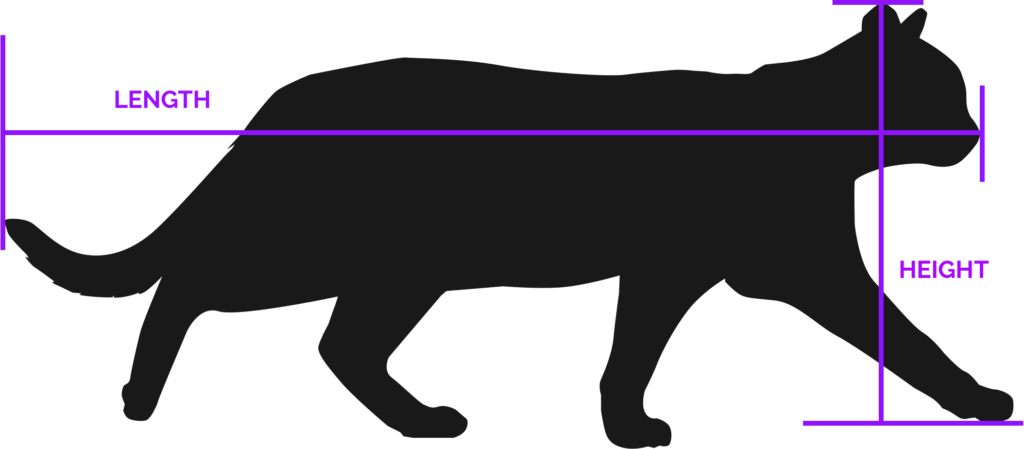 Measure your Cat for choosing the right size:
Generally, the carrier must be larger than your kitty so that it can turn around without bending. However, to determine the right size of the carrier, measure your cat properly in these two easy steps:
Measure the length of your cat. Measure the distance from the top of its nose to the tip of its tail with the help of a measuring tape. Now, add four inches to these dimensions. The final dimensions are the right length for the carrier you need for your pet cat.
Measure the height of your cat from the ground to the top of the head and add four inches to this measurement. The final dimensions are the best height for the right carrier for your cat.
I can't guarantee that you will get a cat carrier of these measurements but you can try getting one as close as possible to these dimensions. Make sure to check the interior dimensions while selecting the carrier. 
Cat Backpack as an Alternative
A carrier is a good way to take your cat with you to the vet but if you want to take them with you on a walk or if you get tired from carrying them with your hands you can avoid that by getting a cat backpack. If you want to get one you can check our list.
Using a Pet Crate Size Calculator
It might be a tedious task to measure your pet in order to choose the right size of its carrier. Fortunately, there is another way to find out the accurate dimensions that you require. You can use a pet travel crate size calculator that uses the weight of your cat to figure out the approximate size. All you need to do is to put the measurements in the calculator and it will calculate the approximate size. Here are easy steps to calculate the size of your pet:
Enter the length of your cat from top of the nose to the tip of the tail in the first field.
Enter the height of your pet cat from the ground to the top of the head.
Measure the distance between the ground and the elbow joint of the cat and put the result you get in the third field.
Measure the distance between the ears of your cat and enter these dimensions in the last field.
Lastly, provide all the required information in their respective fields and you will get the minimum carrier size for the cat.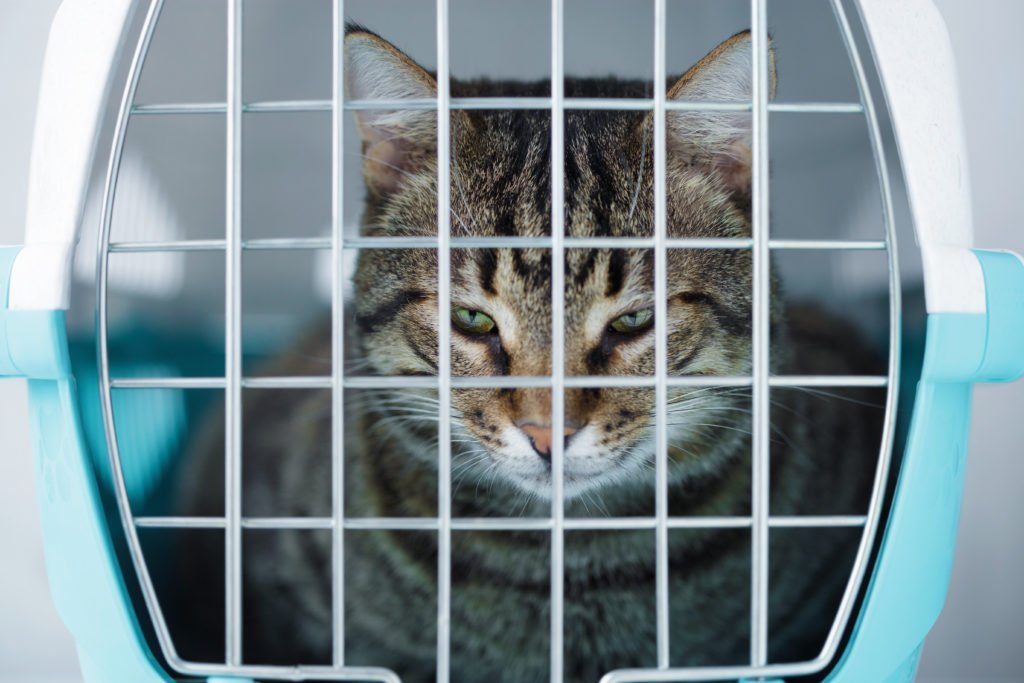 Seeking Advice from Professionals
You can seek advice from pet specialists or a veterinarian. Professionals often know a lot about accessories like carriers, their brand, model, and size. Manufacturers can provide false information on their products just to increase their sales without thinking about the implications it can have on animals such as stress and discomfort. This is why it is always a good idea to consult with an expert before choosing a carrier for your cat. Take the carrier, introduce it to your kitty, and let it explore the new territory. If the carrier is not suitable for it, you can return it.
This is my cat carrier size guide that you can use to find the perfect carrier for your pet. I hope this article helps you figure out the right carrier for your feline friend. For more interesting articles, stay tuned.
Subscribe
Subscribe to receive latest news and articles from us.