You might be wondering if low sodium cat food is right for your cat, especially if you are on a sodium-restricted diet yourself. There are certain situations where feeding your cat a diet that is lower in salt may be beneficial, such as if they have a heart condition known as cardiomyopathy.
Why Is Sodium Significant?
Sodium is an essential mineral for humans, cats, and dogs. It is found in the fluid surrounding cells and within the bloodstream. It is a major regulator of osmolality and helps the body regulate the cellular environment. Sodium exits cells to get them to shrink and enters them to add cellular fluid because fluid follows the gradient of salt. 
Sodium has other useful functions in cats. It is important in nerve function and condition. The body is filled with sodium-potassium pumps which create gradients for electrical signals. Sodium is also useful for your cat to maintain normal muscle cell function. 
Sodium in Food
According to the Association of American Feed Control Officials, there is a specific amount of sodium that should be in balanced cat food. In dry cat food, the food must contain at least 0.2% sodium, which provides plenty of sodium for normal body function in the cats. 
Dry cat food must contain at least 0.2% sodium
The worry is when sodium gets too high over this level, it can produce a variety of unwanted side effects. Cats can become overly thirsty and drink more water, thus producing more urine, a clinical sign known as polydipsia and polyuria. Healthy pets typically manage just fine, but cats with health issues may have other problems develop. 
Examples of Low Sodium Cat Food
There are a variety of low sodium cat foods on the market. Some are available over the counter, without a prescription, while others are available only with a prescription. 
Hill's Science Diet Adult Urinary Hairball Control
Hill's c/d Multicare Feline with Chicken
Purina Veterinary Diet OM Savory Selects
Royal Canin Calorie Control CC High Fiber
Some common low sodium diet options listed by Tufts School of Veterinary Medicine include:
Hill's Science Diet Adult Urinary Hairball Control
Hill's c/d Multicare Feline with Chicken
Purina Veterinary Diet OM Savory Selects
Purina Veterinary Diet DM Savory Selects
Purina Friskies Shreds Chicken & Salmon Dinner in Gravy
Purina Friskies Indoor Chunky Chicken Turkey Casserole with Greens in Gravy
Royal Canin Calorie Control CC High Fiber
Low sodium cat food can also be made, if you choose to homecook your cat's meals. Consider working with a veterinary nutritionist to formulate these meals though, as many foods contain sodium in varying amounts, and you don't want your cat to miss essential nutrients like taurine, which is linked to heart disease when missing from foods.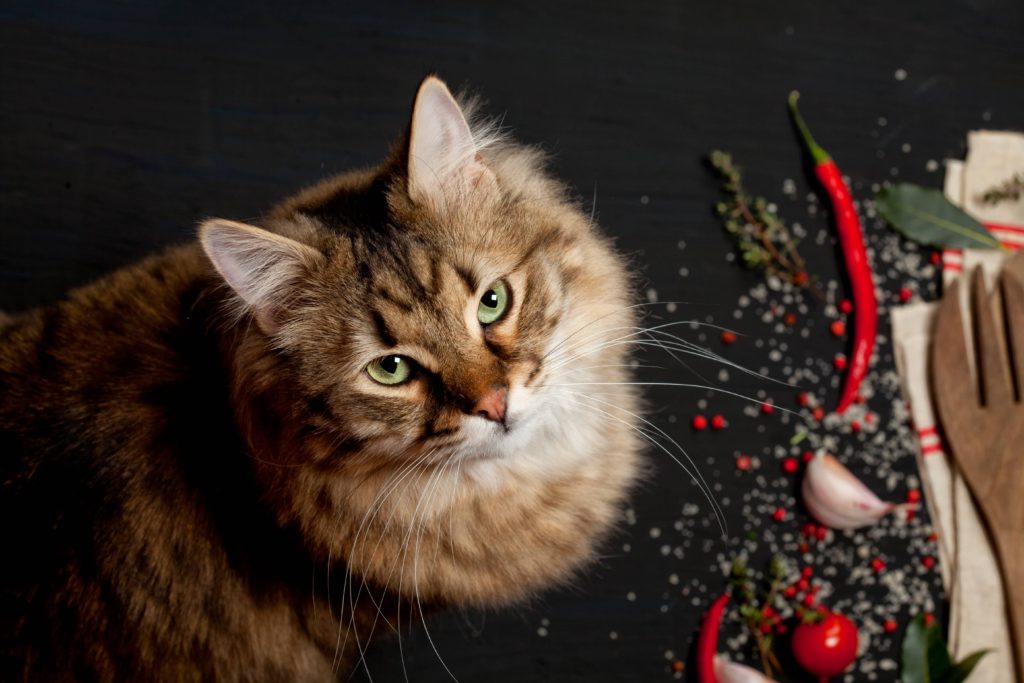 Reasons for Low Salt Cat Food
Some cats need to eat a diet low in salt. Depending on their health condition, they may need lower sodium diets. Such cats may have heart disease, liver disease, or kidney (also known as renal) disease.
Generally, upon making a diagnosis of a certain health condition, your veterinarian will make recommendations about the type of foods your cat should be eating. The main goals of feeding a low sodium cat food are to decrease high blood pressure levels or reduce fluids within the body. For instance, a pet with high blood pressure levels can readily develop kidney disease from the extra pressure moving through the kidney tubules. 
Cardiomyopathy is the main reason for cats to be fed low salt diets.
Cardiomyopathy is the main reason for cats to be fed low salt diets. Cardiomyopathy is a disease of the heart muscle, and it generally needs to be diagnosed with an echocardiogram by a cardiologist or radiographs, also known as X-rays. This disease weakens the heart muscle as it thickens it, and it reduces the blood flow that passes through the veins, arteries, and heart. 
With high levels of salt in the diet, your cat's body with retain fluids, which leads to a large amount of blood and fluid that must be pumped through your cat's already diseased heart. The chambers of the heart dilate and stretch to hold more blood as it cannot pump all of the blood in one beat. As the heart walls stretch, they weaken overtime and can lead to heart failure. Limiting the sodium in your cat's diet will help stave off this disease process, at least for a time. 
In Summary
It's always best to discuss potential diet changes with your veterinarian, especially when you're looking to make a major change, such as limiting the sodium content of their food.
Resources
https://catgearauthority.com/low-sodium-cat-food/
https://vetmed.tufts.edu/wp-content/uploads/low-sodium-diet-list-cats-oct-2018.pdf
https://www.iams.com/pet-health/cat-special-concerns/how-sodium-is-used-in-our-cat-foods
Subscribe
Subscribe to receive latest news and articles from us.